GOAL
The goal of intellectual formation at Holy Trinity Seminary is for the seminarian more and more to know, personally appropriate, and be able to communicate the Church's intellectual tradition, grounded in the relationship that exists between the human spirit and truth, culminating in the Gospel, and to do so effectively within contemporary society so as to evangelize culture, thereby furthering the salvific mission of the Church.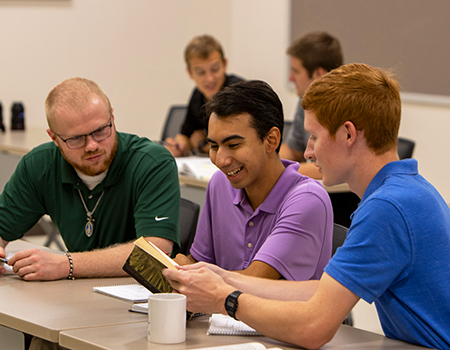 OBJECTIVES
To develop the prudence and discipline necessary for a student and lifelong learner.
To acquire the arts advantageous for one's future ministry as a teacher and a preacher.
To become grounded in the Catholic intellectual tradition with regard to its literary, artistic, historical and liturgical dimensions.
To develop a philosophic habit of mind.
To integrate faith and reason as "a pair of wings, as it were, by which the human spirit is borne toward the contemplation of truth."
To grow in familiarity with the thought of St. Thomas Aquinas, the Common Doctor of the Church.
PROGRAM OVERVIEW
The Program for Priestly Formation (PPF) articulates a double focus of study in the college program of intellectual formation, namely, the study of the liberal arts and the study of philosophy. Holy Trinity Seminary collaborates with the University of Dallas (UD), a nationally acclaimed Catholic liberal arts university. Seminarians attend academic classes with the men and women whom they will serve as priests in the future. With an outstanding curriculum based on a classical approach to the Catholic intellectual tradition, the University of Dallas offers a study of literature, history, modern and classical languages, economics, science, mathematics, fine arts, philosophy and theology based on the original texts of the great sources of Western thought. This challenging curriculum offers seminarians the opportunity to think discerningly and to speak articulately about the challenges offered by utilitarianism, relativism and materialism in our contemporary society.
College program. UD has established an interdisciplinary curriculum of study for collegiate seminarians pursuing a Bachelor's degree to fulfill the goals set forth in the PPF. Collegiate seminarians who successfully complete this course of study earn a B.A. in Philosophy & Letters.
Pre-theology program.  Seminarians who have completed their undergraduate (and in some cases graduate) degrees at other universities and in various disciplines but are lacking the pre-requisite 30 credit hours in philosophy and 12 credit hours in undergraduate theology are enrolled at the University of Dallas in the Pre-Theology Program. This is a four-semester, 48-hour program, the successful completion of which results in the seminarian earning the Certificate of Propaedeutic Studies. In addition to the philosophy and theology requirements, this program also includes 6 credit hours of language studies.