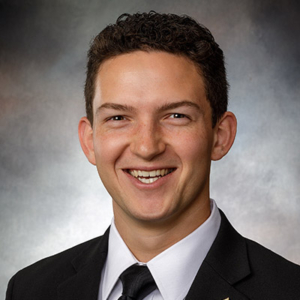 Class:

Propaedeutic
Diocese:

Austin
Hometown:

Boerne, TX
Home Parish:

St. Mary Catholic Center, College Station
BENJAMIN KILLOUGH HIRSCH
A Catholic all my life, I fell in love with my faith while attending Texas A&M University. The soft, still whisper of the Lord called me from Sunday Mass to daily Mass, to priestly discernment dinners. Soon enough, I realized that the Lord was calling me to seminary, however I found myself neglecting and eventually dismissing His summons out of pride and indifference. God, on the other hand, kept calling me, providing so much grace that even a swine could recognize a pearl. I had no choice but to open wide the doors to Christ.
Favorite Quote or Bible Verse
"We need, in love, to practice only this: letting each other go. For holding on comes easily; we do not need to learn it." – Rainer Maria Rilke Requiem for a Friend (Translated by Stephen Mitchell)
Fun Fact
I love to kayak, and I have paddled the whole Guadalupe River from its headwaters to the sea.