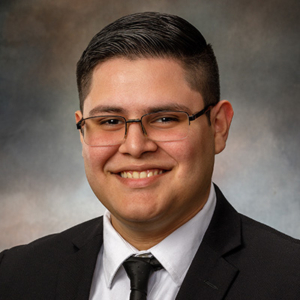 Class:

Discipleship II
Diocese:

Victoria in Texas
Hometown:

Port Lavaca, TX
Home Parish:

Our Lady of the Gulf, Port Lavaca
NELSON STEVEN LAGOS-RAMOS
I grew up in a Catholic family in Honduras with a very devout grandmother. From a very young age, I felt fascinated by the priesthood. After my first Holy Communion, I became an altar server and joined the Legion of Mary. Through prayer, discernment, and inspired by the example of several holy and pious priests, I started discerning God's call more deeply. Let us pray for each other so that together, under the intercession of the Most Blessed Virgin Mary, Mother of God, and our Mother, we respond to the call of our common vocation, heaven.
Favorite Quote or Bible Verse
"To serve the Queen of Heaven is already to reign there, and to live under her commands is more than to govern." – St. John Mary Vianney
Fun Fact
When I was eight years old, I used to play "Mass" with my grandmother, and one time I told her that I wouldn't give her "communion" because she didn't want to go to confession with me.