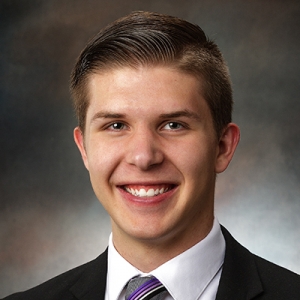 Hometown:

 Plano, Texas
Home Parish:

 St. Elizabeth Ann Seton
Bryce Baumann
My parents used to dress me up as a priest when I was a baby, so I have been thinking about the priesthood for a long time. Throughout my middle and high school years, my relationship with the Lord grew in youth group, various retreats and adoration of the Blessed Sacrament. It was our Mother Mary who gave me the clarity I needed to enter seminary. I have felt very blessed in my first three years at Holy Trinity. God willing, I look forward to giving my whole self to my future sheep after having received so much in formation.
Favorite Quote or Bible Verse
"Do you not know that the runners in the stadium all run in the race, but only one wins the prize?  Run so as to win." – 1 Corinthians 9:24

Fun Fact
In the summer of 2018, I climbed an active volcano while on Spanish immersion in Guatemala.