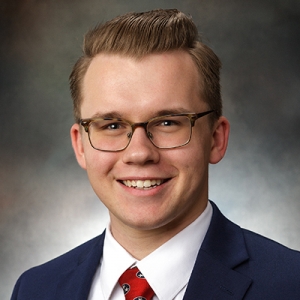 Hometown:

 Nashville, Tennessee
Home Parish:

 St. Edward
Christian Hamrick
My call to the priesthood of Jesus Christ begins with the most important function of the priest: the Mass and the encounter with the Crucified Christ in the Eucharist. While a student at Father Ryan High School, I began to attend daily Mass before school and Adoration during the week. This encounter, along with developing a personal relationship with the chaplain and other solidly Catholic peers, enabled me to hear the whisper of God. After two years in seminary formation, I can confidently say that I am more certain of God's call every day.
Favorite Quote or Bible Verse
"I had no thought of bringing you any other knowledge than that of Jesus Christ, and of Him Crucified." – 1 Corinthians 2:2
Fun Fact
I have a twin brother who attends the Virginia Military Institute.