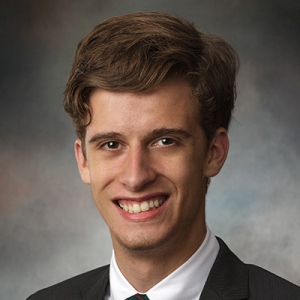 Hometown:

 Nashville, Tennessee
Home Parish:

 Cathedral of the Incarnation
Henry McLeod
I grew up in a devout Catholic family and went to Catholic school for most of my life.  So for most of my life, I was open to the idea of becoming a priest.  However, during high school I had fallen away from that openness and forgot about the idea of seminary.  That was until Easter of my senior year.  I had already committed to going to Colorado School of Mines for college and hadn't thought of the idea of seminary in a long while.  After serving at the Easter Vigil, I had an overwhelming feeling that I should consider seminary.  The feeling scared me, and I panicked and didn't know what to do.  After talking with my spiritual director, I found peace in the idea and decided to go to seminary instead of Colorado.
Favorite Quote or Bible Verse
"If we say that we have fellowship with him, and walk in darkness, we lie, and do not act in truth." – 1 John 1:6
Fun Fact
I am an avid outdoorsman and used to rock climb as a sport.