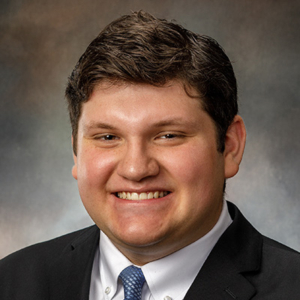 Class:

Freshman
Diocese:

Victoria in Texas
Hometown:

Victoria, TX
Home Parish:

Cathedral of Our Lady of Victory, Victoria
JACOB NED PYATT
I grew up Catholic, but I struggled in junior high with my faith. It wasn't until my freshman year, when I went through a Marian Consecration that I began to pray to Mary. She introduced me to Jesus Christ, who truly loves me. He saved me from a low point in my life, "[because] the God of the mountain is the God of the valley" (Elevation Worship, "Graves into Gardens"). Bishop Gary Janak was my pastor and his "Yes!" to becoming a bishop inspired me to the priesthood. In prayer, I felt God say, "Be bold in obedience." So, here I am, Lord!
Favorite Quote or Bible Verse
"His mother said to the servants, 'Do whatever He tells you.'" – John 2:5
Fun Fact
As a child, I named my family's yellow lab Mary after our Heavenly Mother. Mary repaid me by calling me back to my God! Thank you, Mama Mary!