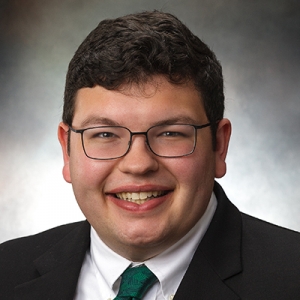 Hometown:

 Cypress, Texas
Home Parish:

 Prince of Peace
John Clark
My discernment began when I was young, about 12 years old. Through the years I started to feel the call with more strength, but I decided to go to college at the University of Texas. While at UT, I was able to enter more deeply into some wonderful Catholic communities, including a year living in a discernment house and a summer at Life Teen Camp Covecrest. By my senior year I felt ready to joyfully and freely say yes to the Lord.
Favorite Quote or Bible Verse
"Abide in me as I abide in you.  Just as the branch cannot bear fruit by itself unless it abides in the vine, neither can you unless you abide in me." – John 15:4
Fun Fact
I post doppelganger pictures of each man around the house (sometimes even the priests).