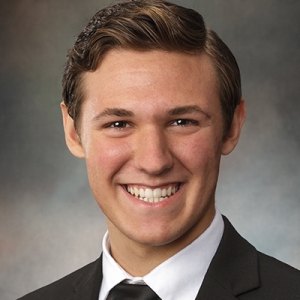 Hometown:

Taylor, TX
Home Parish:

Sts. Cyril & Methodius, Granger
JUDE LUGARI
I originally lived in Detroit, Michigan, until my family moved to Taylor, Texas, in 2009. I was homeschooled my entire life and began to seriously discern a call to the priesthood when I entered high school. This discernment was fostered by the Catholic homeschool program I was using and by the Catholic youth conferences and retreats I attended with my parish youth group. After high school, I spent the 2018-2019 school year living at the St. Charles Borromeo Discernment House in Austin, Texas, while attending Austin Community College. It was during this year that I applied to seminary and was accepted.
Favorite Quote or Bible Verse
"Amen, amen, I say to you, when you were younger, you used to dress yourself and go where you wanted; but when you grow old, you will stretch out your hands and someone else will dress you and lead you where you do not want to go.  He said this signifying by what kind of death he would glorify God.  And when he had said this, he said to him, 'Follow me.'" – John 21:18-19
Fun Fact
When a scene from Transformers 4 was being filmed in my hometown, my little league baseball team and I got to play in it as extras.