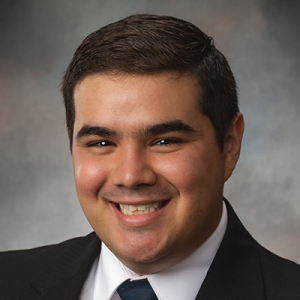 Hometown:

 Laredo, Texas
Home Parish:

 St. Gertrude the Great, Kingsville
Luis Lozano
Upon entering college I made the conscious effort to place God at the center of my life.  Despite the culture of secular college life, I entered more deeply into the sacraments thanks to the ministries at St. Thomas Aquinas Newman Center on the campus of A&M-Kingsville.  As my prayer life and relationship with Jesus grew, I began to hear a call to the priesthood.  I continued my studies in biology and biochemistry while prudently discerning God's will in my life.  After graduation, I became the fourth man to enter seminary from St. Thomas, praise God.
Favorite Quote or Bible Verse
"Fiat mihi secundum verbum tuum." – Luke 1:38
Fun Fact
I used to own a 2000 Jeep Wrangler that liked tearing up the beach almost as much as it liked swimming in Baffin Bay. Yes, Jeeps swim, they can also fly.