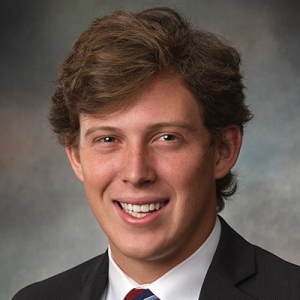 Hometown:

 Nashville, Tennessee
Home Parish:

 St. Mary's of the Seven Sorrows
Reed Robinson
My family has prayed the Rosary nightly since before I can remember.  My vocation was fostered there.  And then, when I was in sixth grade, I began attending Faternus, an all-boys youth group, which is the main reason that I am now attending seminary.  Once I started high school, I joined the discernment club called the Melchizedek Project.  I also started attending HAWC, the high school segment of Fraternus.  It was in these groups and through various mentors in these groups that I decided to follow God's call to seminary.
Favorite Quote or Bible Verse
"Courage is being scared to death and saddling up anyway." – John Wayne
Fun Fact
I played rugby for four years in high school.