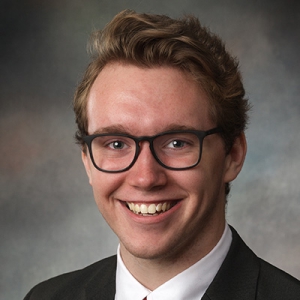 Hometown:

 Nashville, Tennessee
Home Parish:

 The Church of the Assumption
Ryan Burbage
I was interested in seminary at a young age, wanting to be a priest on Sunday and WWE wrestler on Wednesday.  Unfortunately, the latter hasn't exactly panned out.  I began to lose interest in my vocation as I drifted away from the faith in high school.  Thankfully, I had amazing family, friends and mentors that never abandoned me.  In my junior year, I had an encounter with Jesus during adoration where I felt the love I had been starving for.  I decided to put my trust in that beautiful love and to follow it wherever it leads me.
Favorite Quote or Bible Verse
"A saint is a sinner that keeps trying." – St. Josemaria Escriva
Fun Fact
The first thing I wore after I was born was a Notre Dame football jersey, and I was subsequently baptized at Notre Dame's Basilica of the Sacred Heart.