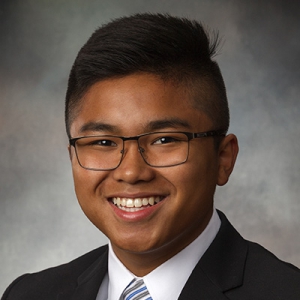 Hometown:

 Nashville, Tennessee
Home Parish:

 Cathedral of the Incarnation
Ryan Hinlo
My vocation story really starts with an experience I had in Eucharistic Adoration.  During those few minutes in adoration, I finally realized that the Eucharist was REALLY Jesus Christ.  For years, I simply went with what my teachers told me about the True Presence, but never really believed it.  After this realization, I started to desire an authentic relationship with Jesus.  That desire led me to spending time in adoration after school, which helped me to hear God's quiet and subtle voice calling me to come to the seminary to truly discern the priestly vocation.
Favorite Quote or Bible Verse
"If you follow the will of God, you know that in spite of all the terrible things that happen to you, you will never lose a final refuge.  You know that the foundation of the world is love, so that even when no human being can or will help you, you may go on, trusting in the One that loves you." – Pope Benedict XVI
Fun Fact
I really enjoy drinking and making all types of coffee.