Coronavirus Notice
In response to the dangers posed by the coronavirus, Holy Trinity Seminary has suspended residency at the seminary until further notice.  This means that all the seminarians have moved out of the seminary and have returned to their home dioceses.  Given the very close quarters under which we live within the seminary buildings, including the sharing of toilets and showers, maintaining the six feet distance from each other is not a viable option for protection.  Furthermore, if a seminarian were to be a carrier of the virus or come down with the virus, again because of the very close living quarters we share, the likelihood of it spreading quickly throughout the house is very high, and a general quarantine could strain our food and housekeeping and ordinary supplies which we do not stockpile.
We want to stress that the seminary program of priestly formation has not been suspended, just residency, that is, doing formation here and all together. 
An off-site formation program will be in place in about a week's time allowing the men to continue their formation, even if in a different than normal setting.  Their academic courses will continue at the University of Dallas through distance-learning.  Their human, spiritual, and pastoral formation will continue through the seminary's off-site formation program.  Even those in counseling can continue through secure video counseling.
All seminary events to which you are welcomed are canceled, including Sunday Masses and our traditional Living Stations on Palm Sunday.
Be assured that all of us are joining with you in praying for those directly affected – whether medically by the virus or emotionally or financially because of the virus.  Please keep us in prayer as we enter this new phase of off-site priestly formation.
OUR MISSION
The mission of Holy Trinity Seminary is to assist college and pre-theology men in discerning a call to the priesthood
and through programs of human, spiritual, intellectual and pastoral formation to foster the
configuring of their hearts to the heart of Jesus the Good Shepherd.
Recent News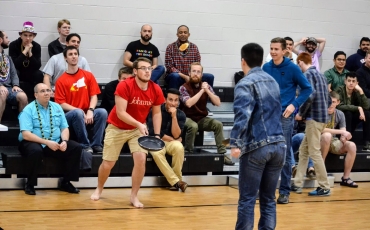 Pancake Races were held at the seminary on Shrove Tuesday. Prior to indulging in pancakes for dinner, the seminarians competed in the Pancake Races by flipping pancakes in a frying pan while running. To view more photos, go to the seminarians' Facebook page.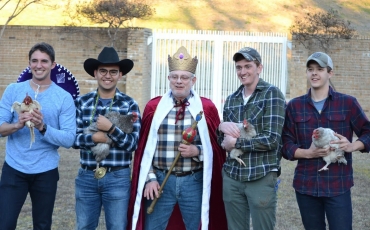 On Monday, February 24, the seminarians participated in a Chicken Chase, a Cajun Mardi Gras tradition. Traditionally, chickens that are caught during the chase are used as ingredients for gumbo. While the seminarians did feast on gumbo that evening, no chickens were hurt in the chase. To view more photos, go to the seminarians' Facebook page.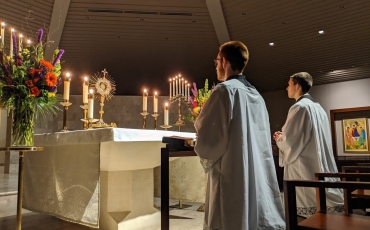 The seminarians observed 40 hours of solemn devotion this past weekend in preparation for Lent. To view more photos of this beautiful devotion, go to the seminarians' Facebook page.
CONTACT INFO
Address: 3131 Vince Hagan Drive Irving, Texas 75062
Phone: (972) 438-2212
Fax: (972) 438-6530
Email: [email protected]