OUR MISSION
The mission of Holy Trinity Seminary is to assist college and pre-theology men in discerning a call to the priesthood
and through programs of human, spiritual, intellectual and pastoral formation to foster the
configuring of their hearts to the heart of Jesus the Good Shepherd.
Recent News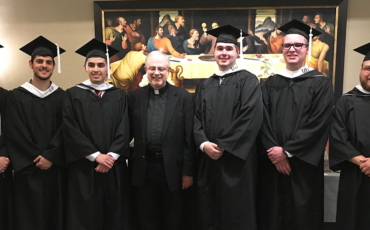 Seminarians Alex Fry (Diocese of Dallas), Raymond Pendleton (Diocese of Corpus Christi), Matthew Tadyshak (Diocese of Dallas), Zachary Muldrow (Archdiocese of Galveston-Houston), Joseph Blackburn (Diocese of Allentown), and Thomas Swierc (Diocese of Corpus Christi) graduated from the University of Dallas on May 13, 2018 with B.A. degrees in Philosophy & Letters and will now continue their theologate studies and formation at…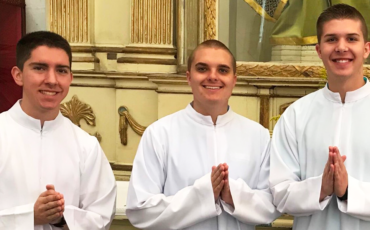 Andrew Darling, Scott Johnson and Bryce Baumann, all seminarians from the Diocese of Dallas, are spending their summer in Antigua, Guatemala in a Spanish immersion program.  Shortly after arriving, they participated in a three-hour long procession with the Blessed Sacrament led by Archbishop Nicolas Thevenin, Apostolic Nuncio to Guatemala.  They will also be ministering to those affected by the volcano eruption.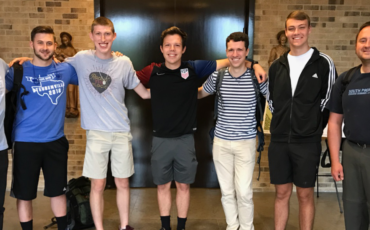 Robert Le Grand, Samuel Hastings, Nick Weiss, Jacob Hubbard, William Mobley and Joey Belair, all seminarians from the Diocese of Dallas, accompanied by Father John Szatkowski, embarked on a week-long backpacking trip into the lakes, floral meadows, and summits of the mountains of Eastern Utah via the Trinity-COR program, which was specially tailored for Holy Trinity Seminary through Wyoming Catholic…
CONTACT INFO
Address: 3131 Vince Hagan Drive Irving, Texas 75062
Phone: (972) 438-2212
Fax: (972) 438-6530
Email: [email protected]