OUR MISSION
The mission of Holy Trinity Seminary is to assist college and pre-theology men in discerning a call to the priesthood
and through programs of human, spiritual, intellectual and pastoral formation to foster the
configuring of their hearts to the heart of Jesus the Good Shepherd.
Recent News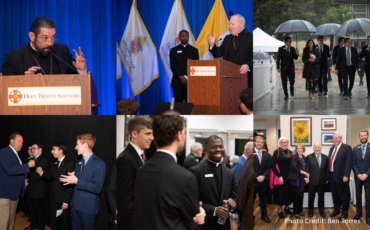 On Friday, October 28, Spes Gregis Benefit sponsors and their guests gathered to celebrate the 45 seminarians currently discerning a vocation to the priesthood at Holy Trinity Seminary.  This year's benefit, the seminary's annual giving appeal, has raised just over $650,000!  Click here to support the appeal.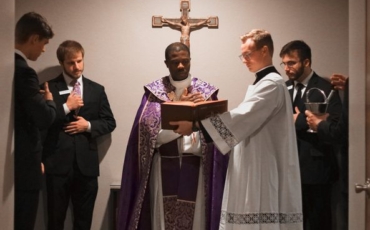 On Sunday, September 4, the seminarians gathered outside their dorm rooms as Father Vincent Anyama, the newly installed rector, blessed their rooms and hallways for the upcoming formation year.  Too see more photos, visit the seminarians' Facebook page.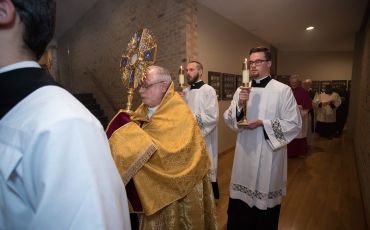 The seminarians observed the annual 40 Hours Solemn Devotion this past weekend. Throughout the weekend, the Blessed Sacrament was exposed as seminarians adored and kept watch for three days around the clock. To view more photos from the Solemn Closing, which was celebrated on Sunday, February 20, go to our Flickr page.
CONTACT INFO
Address: 3131 Vince Hagan Drive Irving, Texas 75062
Phone: (972) 438-2212
Fax: (972) 438-6530
Email: [email protected]