OUR MISSION
The mission of Holy Trinity Seminary is to assist college and pre-theology men in discerning a call to the priesthood
and through programs of human, spiritual, intellectual and pastoral formation to foster the
configuring of their hearts to the heart of Jesus the Good Shepherd.
Recent News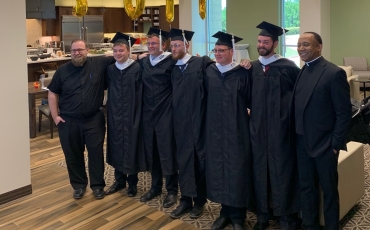 Five seminarians from HTS graduated from the University of Dallas on Sunday, May 19.  After the commencement ceremony, the seminarians and their families gathered at the seminary for a reception held in their honor.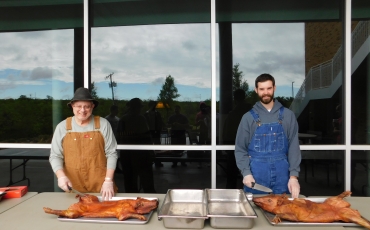 The seminarians' annual pig roast was held on Saturday, April 13 despite the heavy rain. Started by seminarians from the Diocese of Charleston several years ago, this annual gathering is one of the seminarians' favorite spring events. In addition to preparing and then feasting on pigs roasted on the pit, the seminarians spent the day play games indoors and relaxing.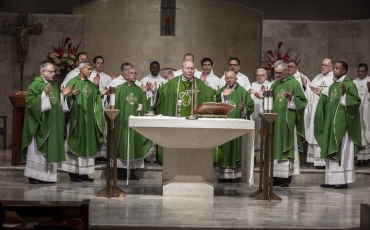 On March 3, Bishop Burns was joined by four bishops and fifteen priests in celebrating a Mass of dedication and thanksgiving for the new Cardinal Farrell Student Center.  Following the Mass there was a dedication ceremony and reception in the nearly completed building. The CFSC is a significant step for the future of Holy Trinity Seminary.  This building affords seminarians…
CONTACT INFO
Address: 3131 Vince Hagan Drive Irving, Texas 75062
Phone: (972) 438-2212
Fax: (972) 438-6530
Email: [email protected]