In July of 2022, the United States Conference of Catholic Bishops, in union with an initiative of the Vatican, published a new program of seminary work that now requires all seminaries and dioceses to institute an introductory stage of seminary life called the propaedeutic stage.
The propaedeutic stage of formation provides seminarians a year to focus on their relationship with Christ through prayer, trust, evangelization, and fraternity and enables them to lay a foundation for a new way of life centered in Christ.  Men in this new propaedeutic stage are required to live as a distinct community with their own designated priest formators.
Implementation of the Propaedeutic Program
Holy Trinity Seminary will begin offering this new stage of formation in the fall of 2023.  All men entering Holy Trinity Seminary for their first year of formation this fall will spend a year in this propaedeutic stage prior to moving on to the discipleship stage of formation.
The formation faculty is diligently working to develop a distinct horarium, scope and sequence for this additional required year of formation.  To allow more time to focus on the human, spiritual and pastoral pillars of formation, propaedeutic seminarians will be enrolled in fewer academic classes each semester than seminarians in the discipleship stage.
Father Paul Bechter has been appointed as the Director of the Propaedeutic Program, and Father Luke Turner, O.S.B. will serve as the resident Spiritual Director for the men in this stage of formation.
Holy Trinity Seminary has identified a hall within the seminary that allows for the distinct community space required by this new propaedeutic program, a hall which also provides direct access to the dormitory hall where the propaedeutic seminarians will reside.
The remodeling of this hall is nearing completion, and the oratory, a sacristy, two classrooms, a kitchen, a student lounge, and refectory are taking shape. 
The Need
A final estimate for implementation of this new propaedeutic stage is still being determined, but we anticipate spending around $500,000 to fund this new program.  Included in this very rough estimate is the cost of remodeling, as well as the cost for purchasing the various liturgical items, furniture, appliances, audio/visual equipment, classroom, and kitchen items needed to provide a robust propaedeutic program.
If you are interested in helping us fund this project, please contact Sylvia Najera, Director of Advancement, at snajera@holytrinityseminary.org or (972) 815-2422.  She would be happy to discuss our needs in greater length.

Student Lounge
(Designed by wilsonbahaus Interiors)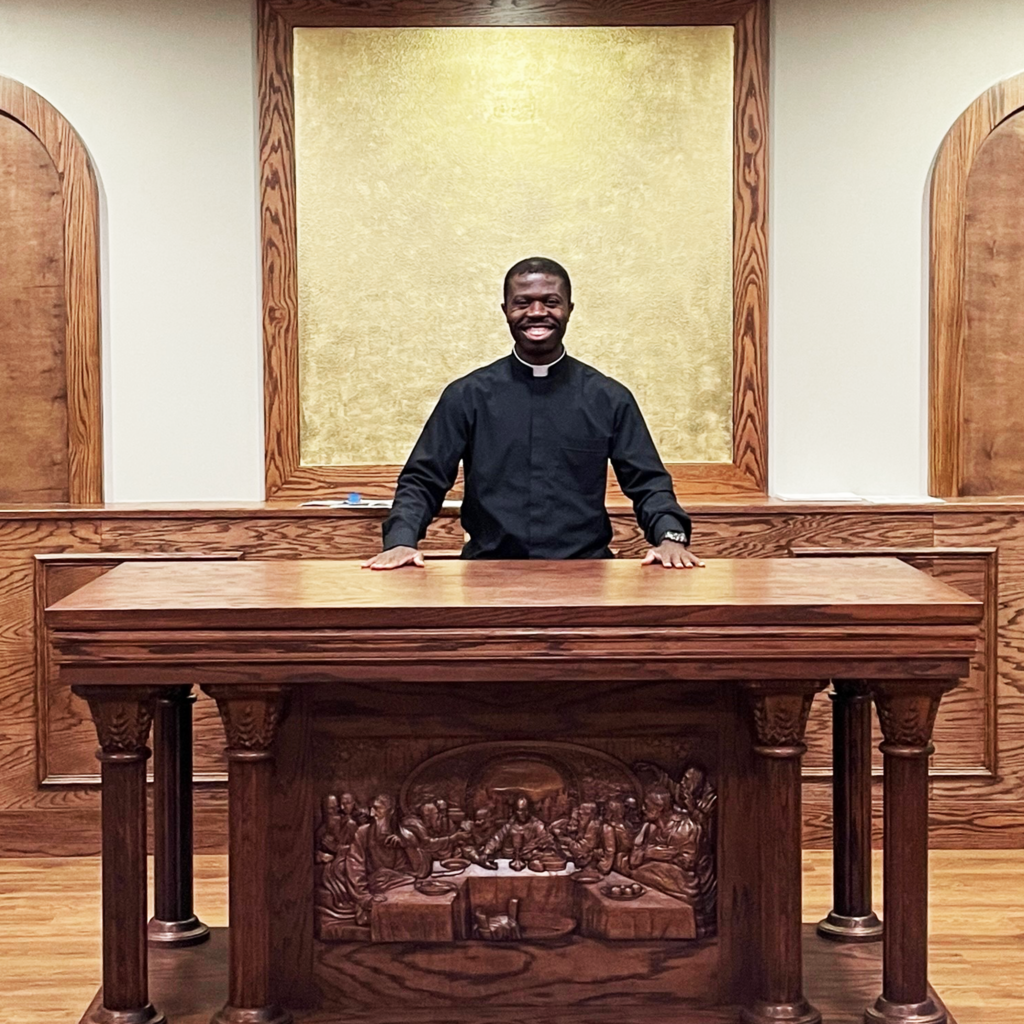 The new altar was installed in the St. Joseph Oratory on Friday, July 14.