• Retreats
• Weekends of Reflection & Prayer
• Community Nights to Build Fraternal Bonds

• Trinity-COR Expedition
• Intramural Sports and Participation in the Rector's Cup
• Etiquette Training
• Fitness Training
• Guest Speakers for Conferences & Workshops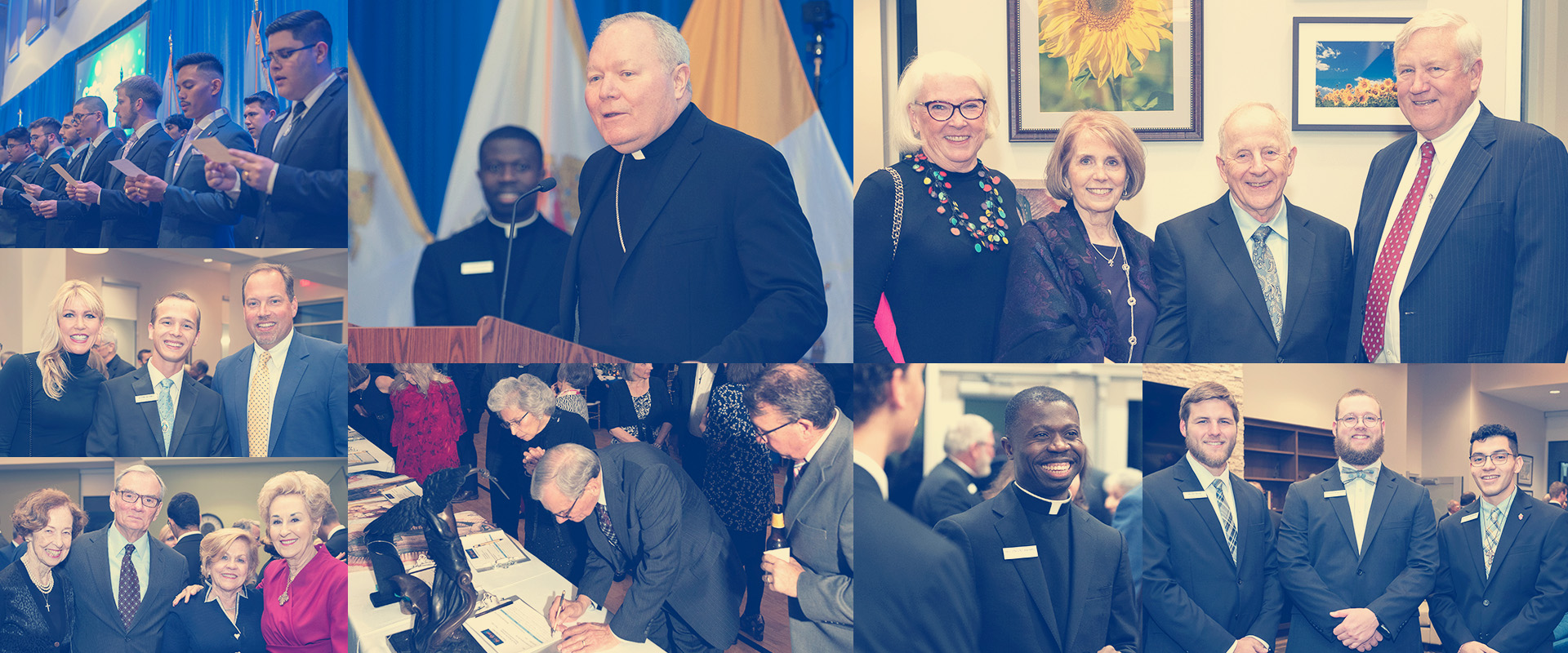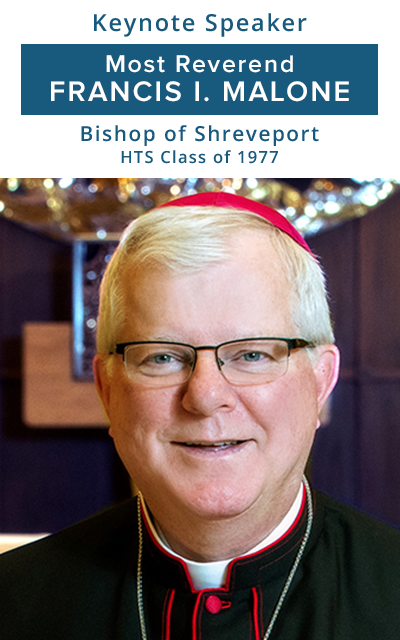 Francis Ignatius Malone, a native of Philadelphia, PA, was ordained a priest on May 21, 1977, for the Diocese of Little Rock, AR.  In 1998, he was conferred Prelate of Honor to His Holiness with the title of Reverend Monsignor and in 2010, he was named Protonotary Apostolic.  He was called to the order of bishop on November 19, 2019, for service in North Louisiana.  On January 28, 2020, he was ordained and installed as the third Bishop of the Diocese of Shreveport.
Bishop Malone attended Holy Trinity Seminary from 1969 to 1977 and also studied at The Catholic University of America where he received his License in Canon Law in 1989.  In addition, he studied Spanish at Ideal, Cuernavaca, Mexico in 2010.
From 1986 to 1987, he served as Vice-Rector at Holy Trinity Seminary.  During his active ministry as a priest and prior to his appointment as diocesan bishop, Bishop Malone served the Church in Arkansas in many different ways as a priest and Chancery official, including chaplain, Vicar Forane, Judicial Vicar, Chancellor, Vicar General, and as a member of the Clergy Personnel Board, the Presbyteral Council, the Diocesan Finance Council and the Clergy Welfare Committee, as well as a member of the College of Consultors.
Bishop Malone presently serves as a member of the United States Conference of Catholic Bishops, Louisiana Conference of Catholic Bishops and the Louisiana Interchurch Conference.  He is a trustee to Notre Dame Seminary, New Orleans and St. Joseph Seminary, Covington.  He also serves as a member of the Board of Directors of St. Francis Medical Center, Monroe, LA.  He is a member of the Equestrian Order of the Holy Sepulchre of Jerusalem, Knight Commander with Star, and has also been honored with the title of Clergy Knight Commander of the Order of the Fleur de Lis.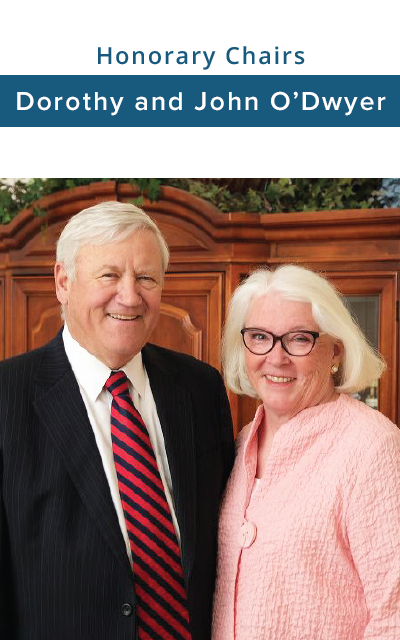 "Holy Trinity Seminary represents the future of the Catholic Church. Developing our seminarians to become shepherds who deeply care for the flock is an enormous task that deserves our full support to achieve this mission. We need to share the work of HTS with others so they too can understand the importance of this critical institution driving priestly formation and ultimately the faith of our brothers and sisters."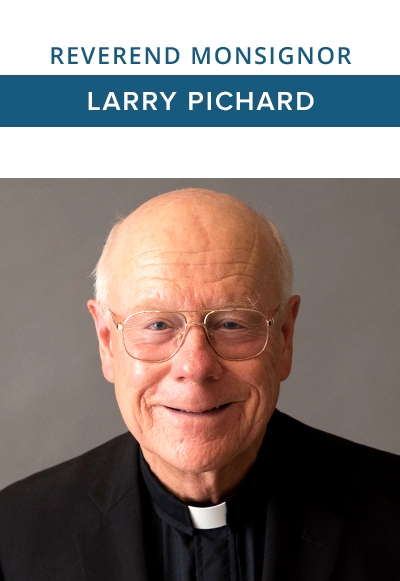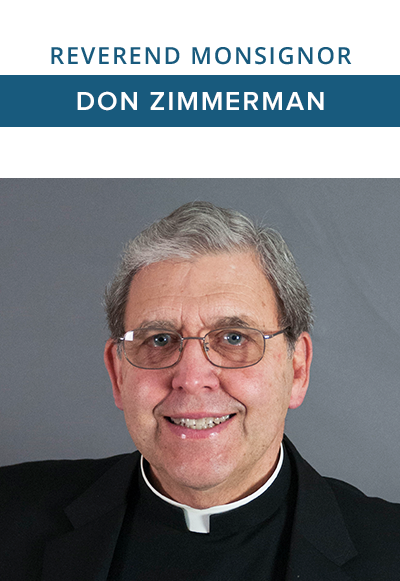 THANK YOU to our Annual Fund Donors and Benefit Sponsors:
Susan and Pat Brosnahan
Dorothy and John O'Dwyer

Christ the King Parish
Marge and Joe Giangiulio
Norma and Harry Longwell / Longwell Family Foundation
Julie and Matthew Ungarino
Lynn and Win Bell
Sue and Bill Cicherski
Diocese of Dallas Vocations Office
Diocese of Victoria
Lisa and Judge Dobrient
Charlie Donner and Blanche Naguib
The Lennox Family
(Matthew and Amy Lennox &
William and Anne Lennox)
Georgia and Marc Lyons
Kathy and Joe Murphy
Vangie Ordinario
Serra Club of Dallas
(Corbin Bain, Chuck Kobdish, TV Mangelsdorf, Mike Regitz, and Kay and Dennis Walo)
St. Jude Knights of Columbus #11293
St. Rita Parish, Dallas
DONORS OF SEATS FOR SEMINARIANS
Beth and Jamie Apt
The Catholic Foundation
June and Troy Cooper
Diocese of Austin
Therese and Bill Frank
Alice and Frank Hernandez
Holy Spirit Parish, Duncanville
Jackson Walker LLP and Mary Emma Ackels Karam
Brenda and Larry Lenzen
Father Russ Mower
Sylvia and Jaime Najera
St. Anthony Parish, Wylie
St. Joseph Parish, Richardson
Margaret and Robert Swain
Shiji and John Varkey
Young Catholic Professionals
Anonymous
George Bell (2)
Louise and Kenneth Berger
Doris and Steven Bodin
Jennifer and Brad Both
Isabel and John Campbell
Father Tom Cloherty (4)
June and Troy Cooper
Jeanie and Chris Curto
Mercedes Daley
Laurie and Wayne Dennis (2)
Diocese of Nashville
Jane and Ernie Doclar
Tracy and Joe Havlik (2)
Nancy and Shawn Howard (2)
John Hughes (4)
Delfina Lerma (2)
Carol Ann and Dan Luby (2)
Margaret and Timothy Parmenter (20)
Pete Philp
Cindy and Greg Saha
St. Ann Parish, Kaufman (2)
St. Mary Parish, Sherman (3)
St. Mary's Seminary (2)
Deanne and Thomas Swierc
Rosemary Tarangioli (2)
Rosemary Haggar Vaughan Family Foundation (20)
Tami and Bao Vu (2)
Anonymous
Bridget and Hunter Allen
Janis and Bob Andres
Archdiocese of Oklahoma City
Cindy and Deacon Kevin Bartholomew
Rhonda and David Becker
Monsignor John Bell
Frances Bevilacqua
Michele and Mike Bishop
Margie and David Brinson
Maureen Brodnax
Lillian and Jim Burke
Jody and Mike Coffey
Marty and Mark Dama
Julie and Cliff Darling
Mary Ann and Thomas Darte
Laurie and Wayne Dennis
Carrie and Vincent Diem
Monsignor Jerome Duesman
Cathy Eck
Christine and David Ehrhart
Juliette and Lewis Flanagin
Martha Glover
Tracy and Russell Harbison
Margaret and Brian Hastings
Father Agustín Henderson
Lisa and Richard Hubacek
Katharine Keenan
Knights of Columbus 4th Degree #1087
Martha Korioth
Betty and William Lavallee
Lana and Mark Leonard
Robyn and Rick Mathews
David Mora / Building Bridges Counseling
Susan and Wren Munsterman
Susie and Marti Musso
Margaret and Timothy Parmenter
Tony Payan
Marianne and Tom Pignone
Susan and Thomas Rejmaniak
Sheila and Roger Richards
Annette Schmidt
Judy and Carey Schulten
Andrew G. Semler
Vicky and Philip Shortino
Heidi and Ray Simpson
Beth and Tom Spitz
St. Andrew Kim Parish, Irving
St. Thomas Aquinas Parish, Dallas
Karilyn and Gary Stadler
Father Will Straten
Karin and Paul Szatkowski
Catherine Webb
Mary Weiss
Eleanor and Don Wetzel
Robert Williams