GOAL
The goal of physical fitness at Holy Trinity Seminary is for the seminarian more and more to strive for and maintain maximal physical fitness, appropriate to his particular needs and situation, doing so not only out of respect for the gift of his body but also with a view towards being an effective minister.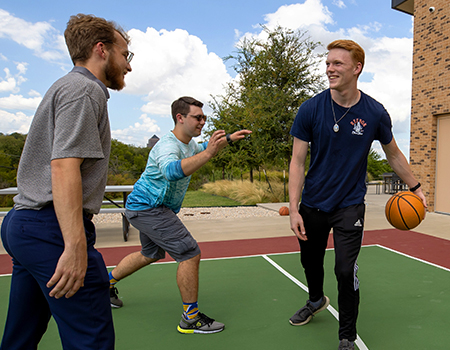 OBJECTIVE
To incorporate a physical fitness plan into one's formation contract and to faithfully and consistently follow through on a plan.
PROGRAM OVERVIEW
Holy Trinity Seminary offers many means for achieving the goal of physical fitness. Both intramural (through the University of Dallas) and in-house sports opportunities are available, including the annual Rector's Cup, a competition with our sister seminary, St. Mary's Seminary in Houston. The Cardinal Farrell Student Center offers, among other features, a full gymnasium, a fitness center (cardiovascular and weights), and an outdoor sports court. The seminary also partners with a local fitness company to provide training via weekly group exercise sessions as well as personal training sessions for those requesting such or recommended for such. Lastly, the seminary owns a state-of-the-art body composition analyzer to provide each seminarian with a comprehensive assessment report, which is then interpreted by a trained fitness professional who works with each seminarian to develop a plan to achieve his desired fitness goals.