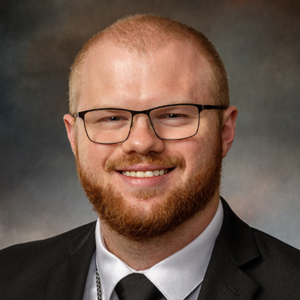 Class:

Sophomore
Archdiocese:

Galveston-Houston
Hometown:

Sugar Land, TX
Home Parish:

St. Laurence, Sugar Land
BASIL SNYDER HOUSEWRIGHT III
Ever since I got involved with my faith in high school, I felt a certain adoration of the diocesan priesthood but struggled with doubt for many years. Finally, after going to college for two years and working for two years, I was pushed by my best friend to go on a discernment retreat. That's where the Lord literally tugged my heart to Him, and I followed that tugging here to seminary.
Favorite Quote or Bible Verse
"I plead with you–never, ever give up on hope, never doubt, never tire, and never become discouraged. Be not afraid." – Saint Pope John Paul II
Fun Fact
I went on 10 retreats between when I started my senior year of high school and when I went off to college. So, about 10 retreats in a 12-month span.